About Pontiac Fiero
Fiero means "very proud" in Italian, and that's how Pontiac feels about its car of that name. Why? Because Fiero is not just Detroit's first mid-engine production effort but only its second volume two-seater since the mid-Fifties Ford Thunderbird.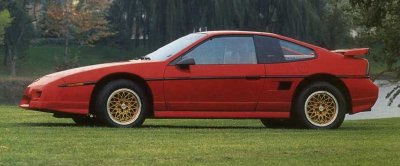 Originally proposed as a "commuter car," the Pontiac Fiero gained new life as a sports car in the 1980s.
Yet within Pontiac itself, the Fiero had more significance as a moral victory: the sports car for which the division had fought for the better part of 20 years, an alternative to the Corvette from rival Chevrolet. Not that it started out as such. Rather, it was broached in 1978 as a "commuter car," a high-mileage mini to help General Motors meet the government's new corporate average fuel economy (CAFE) standards that took effect that year.
But the urge toward a full-fledged sports car was irresistible, especially since even the "commuter" concept envisioned a mid-engine/rear-drive layout with a transplanted power package from the forthcoming X-body front-drive compacts. In October 1978, GM president Elliott M. "Pete" Estes okayed the idea -- perhaps for sentimental reasons: He himself had pleaded for a two-seat Pontiac as division chief back in the Sixties.